Filipino Style Recipe: Nachos with Chili Con Carne is a Mexican dish usually served as snack. The dish is consist of tortilla chips covered with chili con carne, sour cream and cheese.
Ingredients: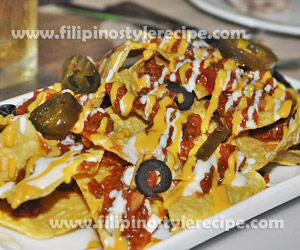 100 grams tortilla chips
1/4 cup sour cream
1 Jalapeño pepper, sliced
1/4 cup black olives, sliced
2/3 cup cheese sauce/spread
Chili Con Carne:
500 grams ground beef
1 large onion, chopped
4 cloves garlic, chopped
1 tablespoon olive oil
2 teaspoons cayenne or chili powder
1 medium-sized red bell pepper, chopped
2 tablespoons tomato paste
2 large-sized tomatoes, chopped
1-2 teaspoons dried or fresh oregano(optional)
1 teaspoon cumin
1 cup beef stock or water
salt and pepper to taste
Procedures:
Part1
1. In a saucepan, heat the olive oil and add the ground beef. Cook over a medium heat until color turns to brown.
2. Saute the onion, garlic and chilli. After sauteing, mix with ground beef and simmer for 2 minutes.
3. Add beef stock, tomato paste and tomatoes then simmer for 20 minutes. Add more water if necessary.
4. Add the oregano, cumin and bell pepper then adjust seasoning according taste.
Part 2
1. Place nachos in a serving plate, add chili con carne on top.
2. Drizzle with sour cream and cheese.
3. Sprinkle with olives, onions and jalapeno. Serve.