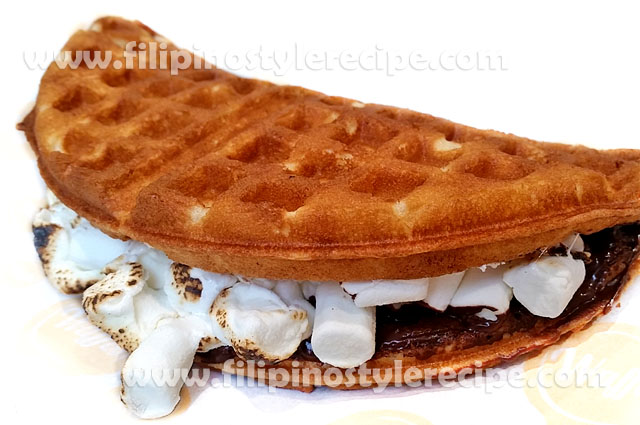 Yield: 6 waffles
Ingredients:
2 cups flour
4 teaspoons baking powder
1/4 cup white sugar
1/2 teaspoon salt
2 eggs, separate egg yolk and egg white
1/2 cup vegetable oil
2 cups warm milk
1 teaspoon vanilla
chocolate spread
marshmallow
Procedures:
Part 1
1. In a large bowl, sift together the flour, baking powder, sugar and salt. Set aside.
Part 2
1. In a bowl, separate egg whites then beat until stiff peaks form.
2. In another bowl, combine egg yolks, milk and vanilla. Whisk together.
3. Add dry ingredients then mix well. Fold in egg whites.
Part 3
1. Lightly grease waffle iron, then preheat to desired temperature.
2. Ladle the batter then cook for 5-10 minutes or until golden and crisp.
3. Transfer into serving plate then top with chocolate spread and marshmallow.
4. Torch marshmallow then serve together with hot coffee.