Filipino Style Recipe: Chocolate Chip Crumb Muffins is very easy to prepare recipe for novice bakers. Perfect for giveaway to friends and meryenda (mid-afternoon snack) for your kids. They will definitely love the chocolate in every bite and the crunch of the crumb toppings.
Good for 6 muffins
Ingredients: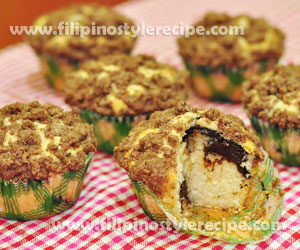 Muffin Mixture:
1 1/2 cup flour
3/4 cup sugar
1/2 teaspoon salt
2 teaspoon baking powder
1 tablespoon buttermilk powder
1/3 cup vegetable oil
1 egg
1/3 cup milk
1 cup chocolate chips
Crumb Mixture:
1/4 cup brown sugar
4 tablespoon flour
2 tablespoon butter, melted
1 teaspoon ground cinnamon
Procedures:
Part 1
1. In a large mixing bowl, mix flour, sugar, salt, baking powder, and buttermilk powder until well combined. Set aside.
2. In a one cup measuring cup, put the vegetable oil and egg then add with milk just enough to fill the cup and stir a bit.
3. Add the oil mixture to the dry mixture and mix until just combined.
4. Use as few strokes as possible, fold in the chocolate chips. Set aside.
Part 2
1. To make the crumb topping, combine the sugar, flour, butter, and cinnamon then mix until it forms small crumbs.
Part 3
1. In a greased muffin pan lined with muffin cups, fill in the muffin mixture until almost full.
2. Sprinkle the crumbs on top then bake in preheated oven over 350 Fahrenheit for 20 minutes.
3. Let it cool for 5 minutes before serving.