Filipino Style Recipe: denengdeng na labong at saluyot is a native ilocano dish from Northern part of Luzon. It is a simple and easy yet healthy vegetable dish consisting of bamboo shoots, jute leaves, bagoong isda boiled until tender.
Estimated time of preparation and cooking: 20-30 minutes
Good for 4-5 persons
Ingredients: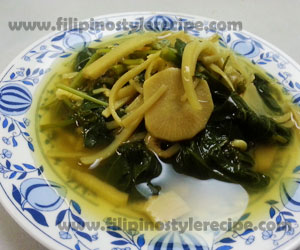 500 grams bamboo shoots(labong), sliced
2 bundles jute leaves(saluyot) , trimmed
4 slices milk fish or tilapia(fried or grilled),(optional)
3 tablespoons fermented fish(bagoong isda)
1 onion, chopped
4-6 cups water
salt to taste
Procedures:
Part 1
1. In a pot, pour water then add bamboo shoots. uncover and simmer for at least 40 minutes or until soften. Drain and set aside.
Part 2
1. In a bowl, dilute bagoong isda in 2 cups hot water, strain and reserve the juice.
Part 3
1. In a pot, boil 4 cups water then add onion.
2. Pour the juice from bagoong isda and simmer for a minute. Remove the scum that rises.
3. Add labong and simmer for 3 minutes. Add jute leaves and fried fish then season with salt.
4. Simmer for a minute then turn off the heat. Serve with steamed rice