Filipino Style Recipe: Cream-Filled Cupcakes is another variety of cupcakes filled with cream filling made of cream cheese, sugar, salt and chocolate chips. This can be served during breakfast together with coffee or during mid-afternoon snack.
Estimated time of preparation: 30-40 minutes
Estimated time of baking: 20 minutes(plus chilling time)
Good for 12-14 cupcakes
Ingredients: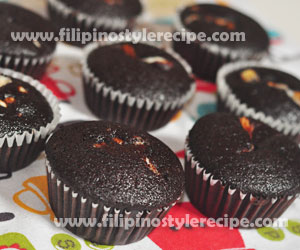 Dry Ingredients:
1 cup all purpose flour
3 tbsp cocoa powder
1/4 tsp salt
2/3 cup white sugar
3/4 tsp baking soda
Liquid Ingredients:
2 eggs, beaten
1/2 cup water
1/3 cup vegetable oil
2 tsp vinegar
1/2 tsp vanilla extract
Cream Filling:
1 pack cream cheese, softened
4 tbsp white sugar
1/8 tsp salt
2/3 cup semi sweet chocolate chips
Procedures:
Part 1
1. In a mixing bowl, sift together the dry ingredients then mix well. Set aside.
2. In a separate bowl, combine liquid ingredients then mix well.
3. Combine dry and liquid ingredients then mix until well blended.
Part 2
1. In another bowl, combine cream filling ingredients then mix well until sugar is fully incorporated.
2. Add chocolate chips then mix well. Set aside.
Part 3
1. In a muffin pan, line muffin cups then pour batter up to half of muffin cups.
2. Scoop cream filling and put in the center of each muffin cups then pour the remaining batter.
3. Bake in preheated oven at 300 degrees Fahrenheit for 20 minutes or until done.(Cupcakes is done when a toothpick inserted in the center comes out clean.)
4. Chill for at least 4 hours before serving.