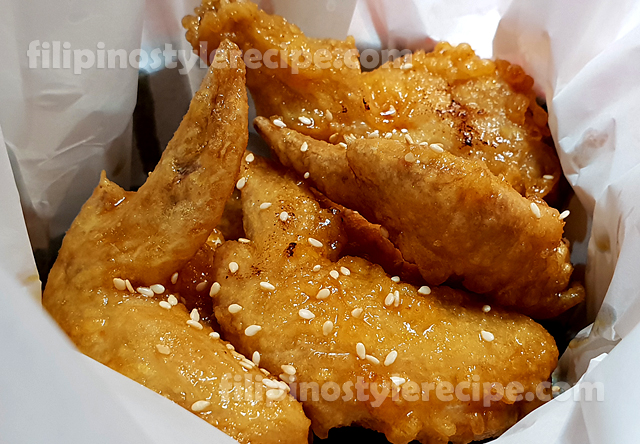 Ingredients:
6 pounds chicken wings, cut into serving pieces
salt and ground pepper to taste
1/2 teaspoon sesame seeds, toasted
1 & 1/2 tablespoons unsalted butter
Sauce:
2 tablespoons honey
2 tablespoons soy sauce
1/2 teaspoon garlic powder
1/2 tablespoons brown sugar
1/2 teaspoon ginger powder
1/2 teaspoon sesame oil
1/2 teaspoon cornstarch
1/4 teaspoon ground black pepper
Procedures:
Part 1
1. In a bowl, combine sauce ingredients then mix until well blended. Set aside.
2. Rub chicken with salt and ground pepper.
Part 2
1. In a pan, melt butter then sear chicken until golden brown both sides.
2. Transfer chicken into baking pan then pour sauce mixture until well coated.
3. Bake in a preheated oven over 200 Fahrenheit for 20 minutes or until caramelized.
4. Transfer to serving plate then sprinkle with sesame seeds.