Filipino Style Recipe: Steamed Cream Dory with Ginger Light Soy Sauce is another simple and quick fish dish that consists of steamed cream dory cooked in ginger light soy sauce drizzle with sesame oil.
Ingredients: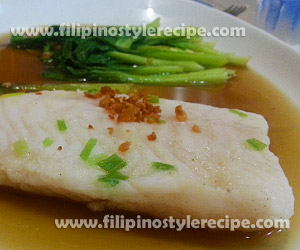 1 kilo cream dory fillets, slice into serving pieces
salt and pepper to taste
1 teaspoon grated ginger
1/2 teaspoon sesame oil
toasted garlic for garnishing
Light Soy Sauce:
1/4 cup light soy sauce
2 1/2 cups water
1 teaspoon grated ginger
1 1/2 tablespoons brown sugar
1 tablespoons oyster sauce
1 tablespoons chopped spring onions
Procedures:
Part 1
1. Rub fish fillets with salt, pepper and ginger.
2. Arrange in a steamer then steam for 10-15 minutes. Set aside.
Part 2
1. In a sauce pan, combine ingredients then simmer to boil. Turn off the heat.
2. In a large serving plate, arrange steamed fish then pour sauce.
3. Drizzle with sesame oil then garnish with toasted garlic.
4. Serve with steamed bok choy.