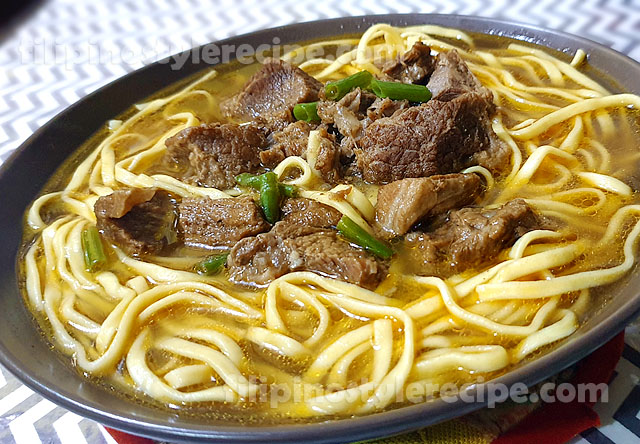 Ingredients:
500 grams beef brisket, cut into serving pieces
300 grams miki noodles, cooked
1 piece beef broth cube
3 pieces star anise
4-5 cups water
2 tablespoons vegetable oil
5 cloves garlic, minced
1 onion, chopped
Chinese cabbage, chopped (optional)
3 stalks spring onions, chopped (optional)
2 pieces hard boiled eggs, sliced (optional)
salt and pepper to taste
Procedures:
Part 1
1. In a stock pot, heat oil to saute the garlic and onions until translucent.
2. Stir fry the beef brisket and let it cook until meat turns light brown.
3. Add beef broth cube, star anise and pour water then bring to boil.
4. Lower the heat and simmer until beef becomes tender. Remove scum that rises.
5. Adjust seasoning with salt and pepper according to taste.
Part 2
1. In a serving bowl, arrange noodles and chinese cabbage.
2. Pour the soup and beef brisket, garnish with boiled egg and spring onions.
3. Serve hot immediately.