Filipino Style Recipe: Cheesy Baked Corned Beef Hash Brown is another delicious and mouth-watering breakfast dish. This dish is consists of corned beef and chopped potatoes cooked and sauteed together with bell peppers, garlic and onions in butter. The corned beef-potato mixture arrange and press down in ramekins or any baking pan then submerged in egg-milk mixture. Sprinkle with Cheddar and Mozzarella cheese then baked until done
Estimated time of preparation: 10 minutes
Estimated time of cooking: 10 minutes
Estimated time of baking: 15-20 minutes
Good for 3-4 servings
Ingredients: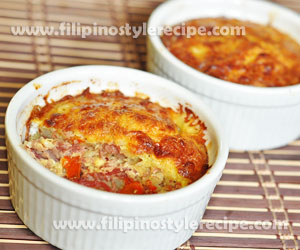 2 cups Corned Beef
2 cups cooked potatoes, chopped
1 cup Cheddar Cheese, grated
1 cup Mozzarella Cheese, grated
2 pieces red and green bell pepper, cut into cubed
5 cloves garlic, minced
1 large onion, chopped
3 tablespoons butter
2 tablespoons vegetable oil
salt and pepper to taste
Procedures:
Part 1
1. In a pan, heat oil and melt butter then saute garlic and onion.
2. Add bell pepper, corned beef, and potatoes then season with salt and pepper.
3. Stir cook for 3 minutes or until light brown. Set aside.
Part 2
1. In a bowl, combine beaten eggs and milk then stir well. Set aside.
2. In a ramekins, arrange and press down corned beef-potatoes mixture then sprinkle with cheddar cheese.
3. Pour egg-milk mixture then sprinkle with mozzarella cheese.
Part 3
1. Bake in a preheated oven over 300 degrees Fahrenheit for 15-20 minutes.
2. Remove from oven then serve immediately.
Notes:
1. You may use quickmelt cheese as an alternative to Mozzarella cheese.