Filipino Style Recipe: This recipe is very easy to prepare and does not cooking (other than melting the butter and chocolates). When you need something sweet and have limited time to prepare, this is one recipe to consider. If you love Reese's, you will definitely love this.
Yields 24 bars
Ingredients: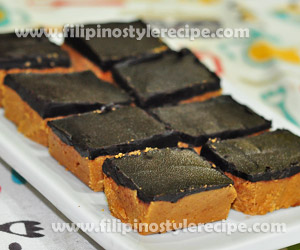 1 cup ( 1 pack) butter, melted
2 cups graham cracker crumbs
1 1/2 cup confectioner's sugar
1 1/2 cup peanut butter
For the frosting:
1 1/2 cup semi sweet chocolate chips
4 tablespoon peanut butter
Procedures:
Part 1
1. In a large bowl, combine the butter, graham cracker crumbs, confectioner's sugar, and peanut butter. Mix until well blended.
2. Press the mixture at the bottom of 9×13 pan. Place in the refrigerator for at least 15 minutes.
Part 2
3. To prepare the frosting, put a metal bowl on top of boiling water. Put the chocolate chips and stir until melted.Remove from heat.
4. Add the peanut butter to the melted chocolate chips and mix until well blended.
5. Spread the chocolate mixture on top of the prepared crust. Refrigerate for at least 1 hours before serving.
6. Cut into 2 inch squares.