Filipino Style Recipe: Spicy Shrimp Fettuccine is an easy and simple pasta dish consist of fettuccine pasta and shrimp cooked in spicy red sauce.
Ingredients: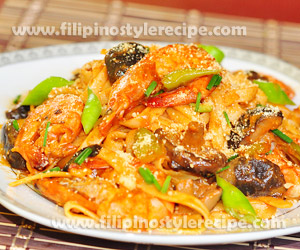 1 medium white onion,minced
3 cloves garlic, minced
4 pieces tomatoes, minced
2 pieces green chilies, cut diagonally
1/4 kilo shrimps
1 can shiitake mushrooms, halved
1/2 cup tomato sauce
1/2 kilo fettuccine, cooked according to package instruction
oil for sauteing
salt and pepper to taste
4 tablespoon Parmesan cheese
Procedures:
1. In a sauce pan over medium heat, saute onion and garlic until translucent and fragrant.
2. Add tomatoes and cook until soft. Add the chilies and mushrooms and cook for 5 more minutes.
3. Add the shrimps and cook until color tuns orange. Add the tomato sauce and let it simmer. Season with salt and pepper.
4. Add the cooked fettuccine and mix. Remove from heat and transfer to serving dish. Top with Parmesan cheese.