Filipino style recipe: ginisang togue or sauteed sprouted mung beans recipe is a healthy yet affordable dish. Normally the sprouted mung beans sauteed with fried pork, tofu shrimp, green beans and carrots.
Estimated time of preparation and cooking: 20-30 minutes
Good for 3-4 servings
Ingredients: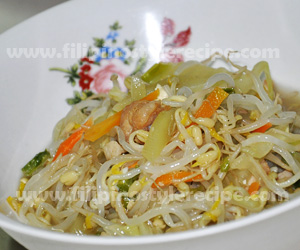 1/2 kilo sprouted mung beans(toge)
1/2 cup fried tofu(tokwa), diced
1/4 kilo pork, cut into small pieces
1 small-sized bell pepper, cut into strips
1 small-sized carrot, cut into strips
1/2 head garlic, chopped
1 medium-sized onion, chopped
1 medium-sized tomato, chopped
fish sauce(patis) or salt and pepper to taste
vegetable oil
Procedures:
1. In a frying pan, heat oil and fry pork until golden brown. Set aside.
2. Saute garlic, onions and tomatoes.
3. Add fried tofu and pork then a little water and pork broth cubes. Cook for 1 minute.
5. Adjust seasoning with salt and pepper.
6. Add sprouted mung beans, carrots and bell pepper and cook for 5 minutes or until vegetables are half-cooked.
7. Remove from heat. Serve with steamed rice.
Notes:
1. You may also add shrimp, green beans and sayote.