Filipino Style Recipe: Stir Fry Tofu, Asparagus and Mushroom is another easy and simple to prepare yet a healthy dish. It is a meatless dish that consists of tofu, asparagus, and mushroom stir fry in cornstarch mixture until thickens. This kind of dish is ideal for those on diet and vegetarian.
Estimated time of preparation: 10 minutes
Estimated time of cooking: 10 minutes
Good for 2-3 persons
Ingredients: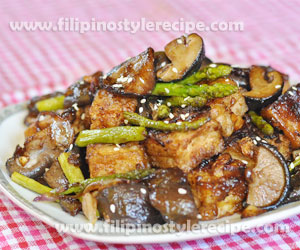 250 grams firm tofu, cut into cubes
10 pieces asparagus, cut into 1 inch
115 grams Shiitake mushroom, cut into serving pieces
1 cup cornstarch
4 cloves garlic, minced
1 onion, chopped
2 tablespoons sesame oil
salt and pepper to taste
vegetable oil for frying
toasted sesame oil (optional)
Cornstarch Sauce:
2 teaspoons cornstarch
1 teaspoon sesame oil
2 teaspoons oyster sauce
1 teaspoon soy sauce
1 teaspoon vinegar
Procedures:
Part 1
1. In a bowl, combine, cornstarch, sesame oil, oyster sauce, soy sauce and vinegar. Mix until well combined. Set aside.
Part 2
1. In a bowl, combine cornstarch, salt and ground pepper then mix well.
2. Dredge tofu into cornstarch mixture to coat all sides. Shake off to remove excess cornstarch.
3. In a pan, heat vegetable oil then fry tofu for 3-5 minutes or until light brown. Drain and set aside.
Part 3
1. In a pan, heat sesame oil then saute garlic and onion. Remove from the pan and set aside.
2. In a same pan, stir cook mushroom and asparagus for 3 minutes or until almost tender.
3. Put back fried tofu, garlic and onion then add cornstarch sauce. Adjust seasoning according to taste.
4. Stir cook until almost thickens. Transfer to serving plate then sprinkle with toasted sesame seeds. Serve.