Filipino Style Recipe: fruit salad is one of the easiest and popular appetizer or dessert of Filipinos in every occasion specially during Christmas and New Year. The typical fruit salad is consist of various fruits blend in condensed milk, heavy cream and cheese.
Estimated time of preparation: 20-40 minutes
Ingredients: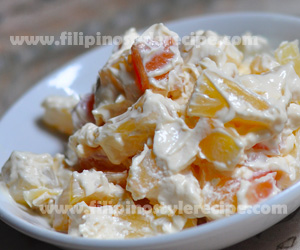 2 cans (29oz) fruit cocktail
1 can (29 oz) pineapple tidbits
1 jar (12 oz) Nata de coco
1 small bottle kaong
1 can condensed milk
1 pack Nestle cream
1/2 cup cheddar cheese, cubed
2 pieces apples, cubed
Procedures:
1. In the strainer, drain the fruits thoroughly for at least 30 minutes.
2. In a bowl, transfer the fruits all together.
3. Add condensed milk, cream and cheese. Mix till well blended.
4. Cover and freeze or refrigerate for 3 hours. Served cold.
Notes:
1. You may also add other fruits like kiwi, lychees, peaches..etc.
Comments
comments
Powered by Facebook Comments