Filipino Style Recipe: adobong isaw(bituka) or pork intestine adobo is another spicy and sour exotic appetizer that usually served as finger food(pulutan). Normally the pork intestine comes boiled then cut into small pieces. Cooked in soy sauce, vinegar, peppercorn, salt and sugar.
Estimated time of preparation: 10-15 minutes
Estimated time of cooking: 20-30 minutes
Ingredients: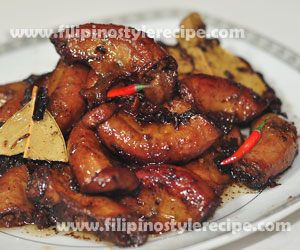 1 kilo pork small intestine
1/2 cup soy sauce
1/4 cup vinegar
3 cloves garlic, minced
2 thumb-sized ginger, crushed
1 teaspoon whole peppercorn
1/2 cups water
2 pieces dried bay leaves
3 tablespoons cooking oil
salt and sugar to taste
1/2 teaspoon dried chili flakes(optional)
3 pieces chili peppers(labuyo)(optional)
Procedures:
Part 1
1. In pot, boil water then add ginger, salt and peppercorn.
2. Add small intestines and simmer for 30 minutes or until tender.
3. Drain and let it cool. Cut into serving pieces. Set aside.
Part 2
1. In a pan, heat oil and saute garlic.
2. Add sliced intestines and continue sauteing until golden brown.
3. Add soy sauce, vinegar, peppercorn, bay leaves, chili, chili flakes, and water. Bring to boil.
4. Season with salt and sugar. Simmer until most the liquid evaporates and oily sauce.
5. Transfer to serving plate. Done!
Comments
comments
Powered by Facebook Comments