Filipino Style Recipe: chicken barbecue or inihaw na manok is an easy and popular grilled chicken recipe. Normally the chicken marinade with seasonings then grilled in a hot charcoal until tender. This is almost similar to chicken inasal.
Estimated time of preparation: 5-10 minutes(plus marinating time)
Estimated time of cooking: 15-20 minutes each side of chicken
Good for 4-5 persons
Ingredients: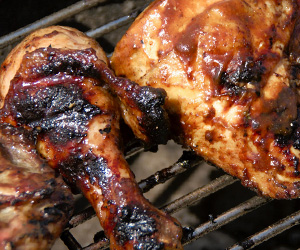 4-5 chicken legs with thigh attached
Marinade
2 tablespoons soy sauce
2 tablespoons calamansi or lime juice
6 gloves garlic, pounded
2 bay leaves(laurel)
1 tablespoons brown sugar
1 cup soda(7-up or sprite)
1 tablespoon salt
1 tablespoon ground pepper
Procedures:
Part 1
1. In a large bowl, combine soy sauce, calamansi juice, sugar, bay leaves, garlic, soda, salt and ground pepper.
2. Add chicken, cover and marinate chicken for at least 3 hours or overnight inside the fridge.
Part 2
1. Remove the chicken and then reserve the marinade.
1. Grill marinated chicken over hot charcoal for 15 to 20 minutes while basting each side with marinade mixture.
2. Transfer serving plate and serve with steamed rice and spicy vinegar.
Comments
comments
Powered by Facebook Comments