Filipino Style Recipe: Banana Chocolate Pops is an easy and sweet and healthy frozen dessert. This dessert has a sweet flavor of frozen banana coated with melted chocolate and rolled in sprinkles. Making this dessert with your kids is a fun way and they will surely love it.
Estimated time of preparation and cooking: 10-15 minutes(plus chilling time)
Good for 6 Pops
Ingredients: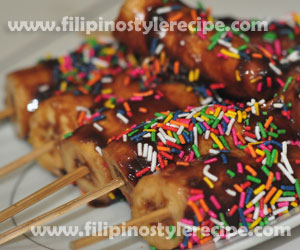 3 large bananas, peeled and cut in half
1/2 cup chocolate chips
1 tablespoon olive oil
6 bamboo or popsicle sticks
1/4 cup choice of sprinkles(rice crispy, crushed nuts, chocolate sprinkles, rainbow sprinkles)
Procedures:
1. Skew each banana on bamboo sticks and wrap with plastic wrap then freeze for an hour.
2. In a sauce pan, heat oil olive then melt chocolate chips.
3. Dip bananas in the melted chocolate until completely covered then decorate with the desired sprinkles.
4. Set aside for a minute then place in a freezer for an hour before serving. Enjoy.
Notes:
1. You may also melt chocolate using microwave oven.
2. You may use cocoa powder and sugar dissolve in water if chocolate chips is not available.
Comments
comments
Powered by Facebook Comments