Filipino Style Recipe: spicy fish fillet with tomatoes and olives is another low-carbohydrate dish. It is usually consists of fish fillets fried and cooked with tomatoes, olives, onions, garlic and peppers.
Estimated time of preparation and cooking: 20-30 minutes
Good for 4 servings
Ingredients: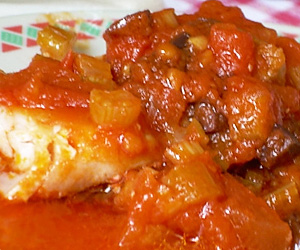 4 pieces fish fillet(tilapia, salmon, red snapper)
2 1/2 cups cherry tomatoes, halved
1 cup black olives, chopped
1/2 cup green bell pepper, diced(optional)
1 medium onion, chopped
2 cloves garlic, peeled and diced
2 tablespoons paprika
1/4 cup olive oil
salt and pepper to taste
Procedures:
Part 1
1. In a bowl, season fillets with paprika, salt and pepper.
2. In a frying pan, heat olive oil and fry fillet for 2 minutes.
Part 2
1. In a saucepan, heat olive oil and saute onion and garlic.
2. Add the tomatoes, bell pepper, chili flakes, salt and pepper then simmer for 3 minutes or until soft. add a little water if necessary.
2. Place the fish fillets, cover and cook for another minutes.
3. Transfer salmon fillets to serving plate with the sauce.
4. Serve hot.
Comments
comments
Powered by Facebook Comments