Filipino Style Recipe: fried eggplant is another easy dish that is made of eggplant slices coated in cornstarch and eggs then fried until golden brown. This is usually served during breakfast with favorite dip.
Estimated time of preparation and cooking: 20-30 minutes
Ingredients: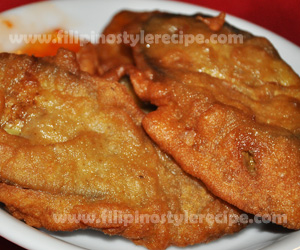 2 pieces eggplants, slice diagonally into 1/4 inch thick
1/2 cup cornstarch or flour
bread crumbs(optional)
2 eggs
1/2 teaspoon salt
cooking oil for deep frying
Procedures:
Part 1
1. In a bowl, combine cornstarch, egg and salt then mix well.
2. Dredge eggplants in cornstarch mixture then roll in bread crumbs to coat.
Part 2
1. In a frying pan, heat oil over a medium heat.
2. Deep fry then eggplants for about 1 minute each side or until they golden brown.
3. Drain on paper towels and transfer to serving plate. Serve with your favorite dip.
Comments
comments
Powered by Facebook Comments