Filipino Style Recipe: Bacon wrapped green beans is another simple yet delicious appetizer. Usually the green beans blanch then wrap in bacon strips and season with salt and pepper. Bake or fry until crisp and serve with sour cream.
Estimated time of preparation: 15 minutes
Estimated time of cooking: 15 minutes
Ingredients: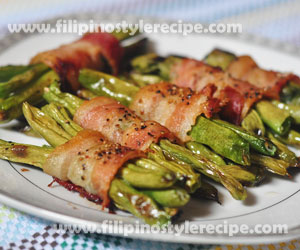 500 grams green beans or baguio beans, end trimmed
8-10 smoked bacon strips
olive oil
salt and pepper to taste
Procedures:
Part 1
1. In a pot, boil water with salt then blanch green beans for a minute.
2. Drain and rinse in cold water. Set aside
Part 2
1. Wrap a bacon slice around 5-8 pieces of green beans.
2. Repeat the step for remaining pieces then place in a baking pan.
3. Sprinkle with salt and pepper then drizzle with olive oil.
4. Pre-heat oven over 400 degrees Fahrenheit then bake wrapped green beans for 15 minutes or until bacon is crisp.
5. Transfer to serving plate then serve with your favorite dipping sauce.
Comments
comments
Powered by Facebook Comments