Filipino Style Recipe: stir fried ginger beef and broccoli is another simple yet delicious beef dish. This dish is similar to beef broccoli which is usually serve in Chinese restaurants. The beef strips marinated then cooked and simmered together with red bell pepper and broccoli until the meat is tender.
Estimated time of preparation: 15 minutes(plus marinating time)
Estimated time of cooking: 10-15 minutes
Good for 2-3 persons
Ingredients: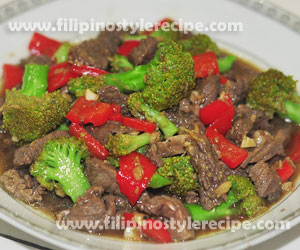 300 grams beef sirloin, sliced thinly into strips
2 cups broccoli florets
2 cloves garlic, minced
1 thumb-sized ginger, grated
1 red bell pepper, diced
1/4 teaspoon chili flakes(optional)
3 tablespoons cooking oil
Marinade:
1/4 cup soy sauce
1/4 cup oyster sauce
1/4 cup water or soda
4 tablespoons brown sugar
1 teaspoon sesame oil
salt and pepper to taste
Procedures:
Part 1
1. In a bowl, combine beef and marinade then stir together. Set aside for 30 minutes.
2. Blanch broccoli in hot water for 1-2 minutes. Drain and rinse with cold water. Set aside.
Part 2
1. In a sauce pan, heat cooking oil and stir fry beef until for 2-3 minutes. Set aside.
2. In a same pan, saute garlic, ginger, bell pepper, chili flakes then pour marinade and bring to boil.
3. Pour dissolved cornstarch and adjust seasoning according to taste.
4. Add broccoli and beef then simmer in a minute.
5. Remove from heat then serve hot immediately with steamed rice.
Comments
comments
Powered by Facebook Comments