Filipino Style Recipe: Caramelized Beef with Spinach is simple yet delicious and mouth-watering beef dish. The beef marinated then cooked and simmered together until caramelized and thicken. This is usually served together with steamed spinach.
Estimated time of preparation: 10 minutes(plus marinating time)
Estimated time of cooking: 10 minutes
Good for 2-3 persons
Ingredients: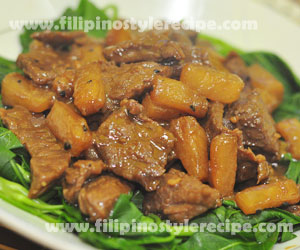 1/2 kilo beef, cut into serving pieces
120 grams pineapple(chunks or tidbits), reserve juice
3 tablespoons soy sauce
3 tablespoons oyster sauce
1 tablespoons brown sugar
1 teaspoon sesame oil
1/2 teaspoon garlic powder
1/2 teaspoon ginger powder
1/2 teaspoon cayenne powder(optional)
salt and ground pepper to taste
a bunch of spinach, steamed
Procedures:
Part 1
1. In a bowl, combine, soy sauce, oyster sauce, pineapple juice, brown sugar, sesame oil, garlic powder, ginger powder, cayenne pepper and ground pepper then mix well.
2. Add beef then marinate for 2 hours or overnight inside the fridge. Drain and reserve the marinade.
Part 2
1. In pan, pour marinade then simmer over medium heat until reduce in half.
2. Add beef then stir cook for 5 minutes or until caramelize and thicken.
3. Adjust seasoning according to taste. Add pineapple then cook for another minute.
4. Transfer to serving plate together with steamed spinach. Serve immediately.
Comments
comments
Powered by Facebook Comments