Filipino Style Recipe: Halabos na Hipon (Buttered Garlic Shrimp) is a quick and simple shrimp dish cooked in butter, soda and garlic until cooked. This can be served together with steamed rice or pulutan(appetizer).
Estimated time of preparation: 3 minutes
estimated time of cooking: 3-5 minutes
Ingredients: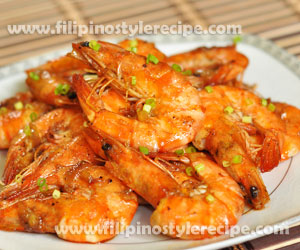 500 grams shrimp, cleaned and trimmed out the antenna and sharp pointed.
2 cups soda (sprite or 7-up)
3 cloves garlic, minced
1/2 teaspoon butter
salt and pepper to taste
chopped spring onion for garnishing
Procedures:
Part 1
1. In a large bowl, marinate shrimp in soda for 20 minutes.
Part 2
1. In a pan, melt butter then saute garlic until light brown.
2. Add shrimp then saute until color turns to orange.
3. Season with salt and pepper then simmer for a minute. (If the sauce is too much, remove the shrimp then simmer until the sauce evaporates).
4. Transfer to serving plate then sprinkle with spring onion. Serve immediately.
Comments
comments
Powered by Facebook Comments