Filipino Style Recipe: The original recipe is for simple cupcake but I wanted to add some zing to it, thus the lemon. And guess what? my family raved about them. This cupcake is perfect with your favorite coffee or tea.
Estimated time of preparation: 20 minutes
Estimated time of baking: 18 minutes (plus preheating time)
Good for 16-18 medium cupcakes
Ingredients: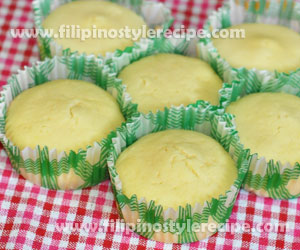 or the cupcakes
2 egg whites
1 teaspoon cream of tartar
5 tablespoon butter, softened
2 tablespoon vegetable oil
1 cup sugar
2 teaspoon vanilla extract
2 egg yolks
1 3/4 all purpose flour
1/4 teaspoon baking soda
1/4 teaspoon salt
1 teaspoon baking powder
1 cup sour cream
1 lemon (lemon zest and lemon juice)
Procedures:
Part 1
1. In a mixing bowl, combine egg whites and cream of tartar and mix with hand mixer until stiff peaks form. Set aside.
2. Using a stand mixer, mix the butter, vegetable oil, and sugar until well combined, around 3 minutes. Add the egg yolks and vanilla until well blended.
3.Combine the flour, baking soda, baking powder and salt. Alternate adding the sour cream and dry ingredients in 3 parts in to the butter mixture until just blended.Do not overmix. Fold in the lemon zest, lemon juice, and egg whites to the batter until evenly combined.
4. Fill cupcake liners until 1/2 full and bake into preheated oven at 350 farenheit for 15 -18 minutes or until toothpick inserted at the middle of cupcake comes out clean. Remove from the oven and let it cool in rack.
Comments
comments
Powered by Facebook Comments