Filipino Style Recipe: Avocado Ice Pops is a refreshing dessert freeze on a stick made of avocado flesh, sugar syrup, lime juice and salt.
Ingredients: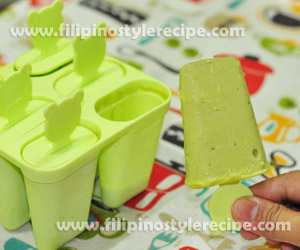 2 ripe avocados, scoop the flesh
2 tablespoons lime juice
1/8 teaspoon kosher salt
Sugar Syrup:
1 cup water
1/2 cup sugar
Procedures:
1. In a sauce pan, add water then heat in a low heat. Add sugar then keep stirring until dissolved. Remove from heat then let it cool to room temperate.
2. In a blender, combine avocados, sugar syrup, lime juice and salt then blend until smooth.
3. In a ice-pop molds, divide the mixture evenly then freeze until solid.
Comments
comments
Powered by Facebook Comments