Ingredients: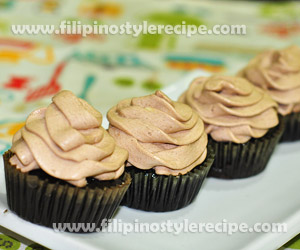 1 tablespoon buttermilk powder dissolved in 1 cup milk
1/2 cup oil
3 eggs
2 teaspoon vanilla extract
1 tablespoon instant coffee dissolved in 1 cup warm water
1 3/4 cups all purpose flour
2 cups sugar
3/4 cups cocoa powder
2 teaspoon baking soda
1 teaspoon baking powder
1 teaspoon salt
Frosting:
1 cup (1 pack) butter, softened but cold
2 teaspoon vanilla extract
1 cup confectioner's sugar
1 tablespoon unsweetened cocoa powder
1/2 tablespoon coffee dissolved in 1 tablespoon warm water
2-4 tablespoon milk
Procedures:
1. In a mixing bowl, combine the buttermilk, oil, eggs, and vanilla and mix until well combined.
2. In another bowl, sift together the flour,sugar, cocoa powder, baking soda, baking powder and salt. Slowly add dry ingredients into the wet ingredients and mix on low speed until well combined. Add the coffee and mix again until just combined.
3.Scoop the batter into muffin pan with cupcake liners until around 3/4 full.
4. Bake for 18-20 minutes or until toothpick inserted comes out clean.Remove from oven and let it cool for
5 minutes before completely removing from the pan.
5. To prepare the frosting, in a large mixing bowl, cream butter until fluffy, around 5 minutes. Slowly add in confectioners sugar and cocoa powder while continuously mixing.
6. Add vanilla and coffee and blend on low speed. Gradually add milk until you reach desired consistency. Beat at high speed until frosting is smooth and fluffy.
7. Frost cupcakes then serve. Enjoy.
Comments
comments
Powered by Facebook Comments