Filipino Style Recipe: Adobong sitaw at tofu is another variant of Filipino adobo. It consist of string beans and tofu braised in soy sauce, vinegar and spices.
Ingredients: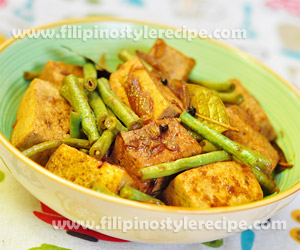 250 grams firm tofu, cut into serving pieces
1 bunch string beans(sitaw), cut into 2-inch lengths and ends discarded
1 head garlic, minced
1 medium onion, sliced
4 tablespoons soy sauce
3 tablespoons of vinegar
1/4 cup water
2 bay leaves
10 whole black pepper
1 tablespoon butter
sugar and salt to taste
Procedures:
Part 1
1. In a pan, melt butter then fry tofu until light brown. Remove from the pan and set aside.
Part 2
1. In a same pan, add garlic and onion then saute until translucent.
2. Put back fried tofu then pour water, soy sauce, vinegar, bay leaf and pepper then simmer for 3 minutes.
3. Add string beans, stir and simmer for another 8-10 minutes or until string beans in tender.
4. Season with sugar and salt according to taste.
5. Transfer to serving bowl. Serve hot and enjoy!