Simple, budget friendly, and healthy dish that you can serve to your family. Best served with steaming rice.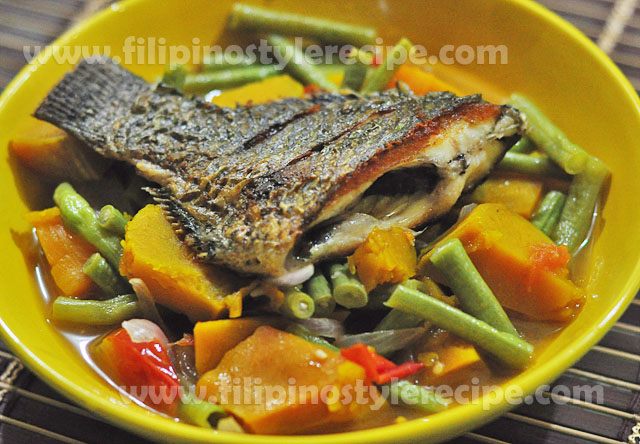 Ingredients:
1 piece tilapia, cleaned and halved
1/2 squash(kalabasa), peeled and cut into cubes
1 bundle string beans (sitaw), cut into 2inch long
3 cloves garlic, minced
1 medium-sized onion, chopped
2 medium-sized tomatoes, chopped
cooking oil
1 cup water
salt
fish sauce and ground pepper to taste
Procedures:
1. Wash tilapia, dry, and sprinkle with salt. In a frying pan, heat oil and fry tilapia on both sides until brown . Remove from pan and set aside.
2. In another pan, heat oil then saute garlic and onion.Add tomatoes then continue sauteing for 5 minutes or until soft.
3. Add vegetables and stir cook for a minute, then add water and simmer for 5 minutes.
5. Season with fish sauce and pepper according to taste.
6. Cook until veggies are tender, add the fried tilapia and let it boil for 1 minute. Transfer to serving plate and serve.