Filipino Style Recipe: Sauteed string beans and chicken is another simple and quick recipe. It is consist of string beans and chicken braised in soy sauce, oyster sauce and spices. This is almost similar to adobong sitaw without using vinegar. Ideally, sauce should be naturally thick and oily but this is very delicious.
Estimated time of preparation and cooking: 20-25 minutes
Good for 2-3 persons
Ingredients: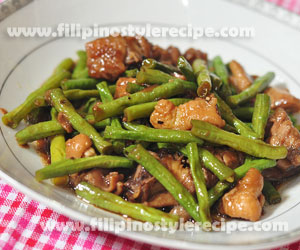 1 bunch string beans(sitaw), cut into 2-inch lengths and ends discarded
1/4 kilo chicken breast, cut into small pieces
5 cloves garlic, minced
1 onion, chopped
2 tablespoons soy sauce
1 tablespoon oyster sauce
1/4 cup water
salt and pepper to taste
Procedures:
1. In a pan, heat oil then saute garlic and onion until translucent.
2. Add chicken and salt then stir cook until light brown and tender.
3. Pour water, soy sauce, oyster sauce and pepper then simmer for 5 minutes.
4. Add string beans, stir and simmer for another 3 minutes or until string beans in tender.
5. Adjust seasoning then remove from heat. Serve hot with steamed rice. Enjoy!
Comments
comments
Powered by Facebook Comments