Filipino Style Recipe: chicken ala king is a recipe consisting of diced chicken in a cream sauce. Often with mushrooms and vegetables. This is usually served over toasted bread, pasta or steamed rice.
Estimated time of preparation and cooking: 30 minutes
Good for 4 persons
Ingredients: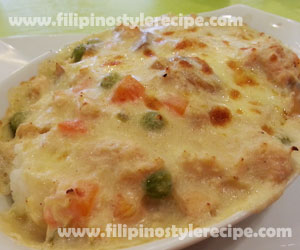 3 cups pre-boiled chicken fillet, cut into cubes
1 carrot, cut into cubes
1/3 cup sweet peas
1 cup button mushrooms, sliced
2 cups evaporated milk
1/4 cup all-purpose flour
1 1/2 cups chicken broth
1 onion, chopped
3 tablespoons butter or margarine
salt and pepper to taste
1/2 cup green bell pepper, diced(optional)
Procedures:
1. In a saucepan, melt butter the saute onion, mushrooms and bell pepper for 5 minutes.
2. Add flour, milk and chicken both then stir constantly until smooth.
3. Add sweet peas and carrots then stir cook for 3 minutes.
4. Add chicken, salt and pepper then continue cooking until thick and begins to bubble.
5. Transfer to serving bowl then serving with steamed rice. Serve hot!
Tips:
1. If you'd like a thicker sauce: dissolve 2 tablespoons cornstarch in 1/4 cup water, add to sauce a little at a time, until desired thickness is reached.
Comments
comments
Powered by Facebook Comments