Filipino Style Recipe: beef salpicao is another typical Filipino beef dish made of marinated beef sirloin or tenderloin then stir cook for a few minutes. Beef salpicao is usually serve with fried garlic and almost similar to bistek tagalog.
Estimated time of preparation: 10 minutes(plus marinating time)
Estimated time of cooking: 5-8 minutes
Good for 3-4 servings
Ingredients: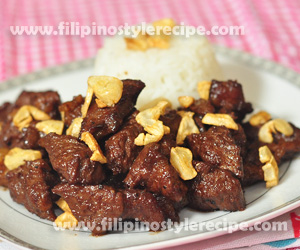 1/2 kilo beef tenderloin, cut into cubes or strips
1/2 tablespoon garlic, chopped
1 tablespoon butter
3 tablespoons olive oil
Marinade:
1 tablespoon olive oil
2 tablespoons Worcestershire
2 tablespoons soy sauce or oyster sauce
1/2 tablespoon garlic, minced
1/2 tablespoon paprika(optional)
1/2 teaspoon cayenne pepper or chili flakes(optional)
1 tablespoons brown sugar
salt and pepper to taste
Procedures:
Part 1
1. In a bowl, combine beef and marinate ingredients. Marinate the beef for 2 hours.
Part 2
1. In a pan, heat 1 tablespoons olive oil and toast the garlic until colors turn to golden brown and crispy. Drain and set aside.
Part 3
1. In the same pan, cook the beef for 5 minutes or until brown and start to render oil.
2. Add butter then stir cook for 2 minutes.(Don't overcooked, beef will become tough).
Part 4.
1. Remove from heat and transfer the beef to serving plate.
2. Sprinkle with fried garlic then serve with streamed rice.
Comments
comments
Powered by Facebook Comments