Filipino Style Recipe: sinigang na hipon is another simple and easy Filipino dish. This is similar to sinigang na baboy. Normally the shrimps cooked in a combination of onions, tomatoes, different vegetables and tamarind which gives a sour taste.
Estimated time of preparation and cooking: 30 minutes
Good for 5-6 servings
Ingredients: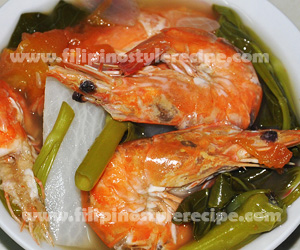 1 kilo Shrimps
1 pack sinigang mix or 12 pieces tamarind(sampalok)
5 cups water or ricewash
1 onion, diced
3 large tomatoes, quartered
1 bundle water spinach(kangkong), cut into 2 inches
3 pieces green chili(siling haba)
salt or fish sauce to taste
2 pieces radish, sliced(optional)
1 bundle string beans(optional)
Procedures:
1. In a pot, pour water and bring to boil.
2. Add onions, tomatoes and radish.
3. Add sinigang mix and simmer for 2 minutes.
4. Add shrimps, string beans and green chili then simmer for 3 minutes.
5. Adjust seasoning with salt or fish sauce.
6. Turn off the heat, add water spinach and cover for a few minutes.
7. Transfer to serving bowl and serve with steamed rice. Enjoy!
Tips:
1. You may also add eggplants or pechay.
Notes:
If using tamarind(sampalok) instead of sinigang mix, here's the procedure:
1. Boil tamarind until soften.
2. Pound and extract the juices.
Comments
comments
Powered by Facebook Comments