Filipino Style Recipe: Pininyahang Baboy(Pork with Pineapple) is another mouth-watering dish that is commonly served by Filipinos. This is similar to pininyahang manok but we will use pork instead of chicken. The pork is simmer and cook in pineapple juice together with pineapple chunks, fresh vegetables, and spices. I also added evaporated milk to make a creamy sauce. The tender of pork and the sweet and sour taste of pineapple make this dish irresistible. This is truly a mouth-watering dish.
Estimated time of preparation: 10 minutes
Estimated time of cooking: 30 minutes
Good for 4-5 persons
Ingredients: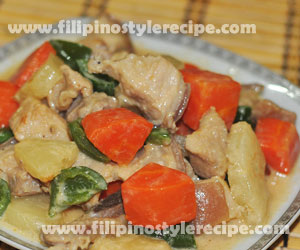 1 kilo pork belly, cut into serving pieces
2 red and green bell pepper, cut into cubes
1 medium carrots, cut into cubes
1 cup pineapple chunks
1/2 cup pineapple juice
1 medium onion, chopped
3 cloves garlic, minced
3 tablespoons soy sauce
fish sauce or salt and pepper to taste
3 tablespoons cooking oil or butter
2 medium potatoes, cut into cubes(optional)
2 cups evaporated milk or coconut milk(optional)
Procedures:
Part 1
1. In a pan, heat cooking oil and fry carrots and potatoes until light brown. Drain and set aside.
Part 2
1. In the same pan, reduce oil then saute garlic and onion.
2. Add pork then continue sauteing until light brown. Season with fish sauce and pepper.
3. Pour milk and pineapple juice then simmer for 20 minutes or until the meat is tender. Add water if necessary.
4. Add carrots, potatoes and bell pepper then simmer for 3 minutes.
5. Add pineapple chunks, soy sauce and fish sauce according to taste then simmer for another minute.
6. Remove from the heat then transfer to serving bowl. Serve with steamed rice.
Comments
comments
Powered by Facebook Comments