Filipino Style Recipe: strawberry milk gulaman is another refreshing beverage and usually serve during afternoon or summer season. This drink is consists of strawberries, syrup, milk, sugar and gulaman then stir with ice.
Estimated time of preparation: 10 minutes
Ingredients: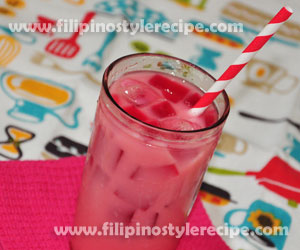 250 grams fresh strawberries, halves
1/4 cup strawberry syrup
1 cup full cream milk
1 tablespoon strawberry gelatin powder
2 cups boiling water
sugar to taste
crashed ice or ice cubes
Procedures:
Part 1
1. In a square container, dissolved strawberry gelatin powder in boiling water then stir until completely dissolved. Let it cool and place in fridge until firm.
2. Cut into small cubes. Set aside.
Part 2
1. In a blender, process strawberry, strawberry syrup, milk and sugar until smooth.
2. Pour in tall glasses then add strawberry gulaman and some ice. Serve.
Note:
1. You may garnish the drinks with fresh strawberry before serving.
Comments
comments
Powered by Facebook Comments