Filipino Style Recipe: Buko Pandan Drink is another refreshing beverage and usually serve during afternoon or summer season. This drink is consists of shredded coconut, pandan gelatin, milk and coconut water then stir with ice.
Ingredients: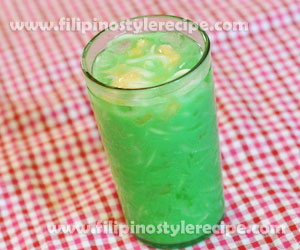 1 pack green or pandan flavored gelatin
2-3 drops pandan extract
4 cups coconut water
1 big can evaporated or fresh milk
1 big can condensed milk
1 cup young coconut buko, shredded
5 pieces pandan leaves (optional)
Procedures:
Part 1
1. Prepare gelatin based on package instructions. Let it cool and cut into small cubes. Set aside.
2. Boil pandan leaves in 4 cups water over low heat for 20 minutes or until aroma comes out. Let it cool and set aside.
Part 2
1. In a water pitcher, combine all the ingredients then mix well.
2. Serve with ice cubes. Enjoy!