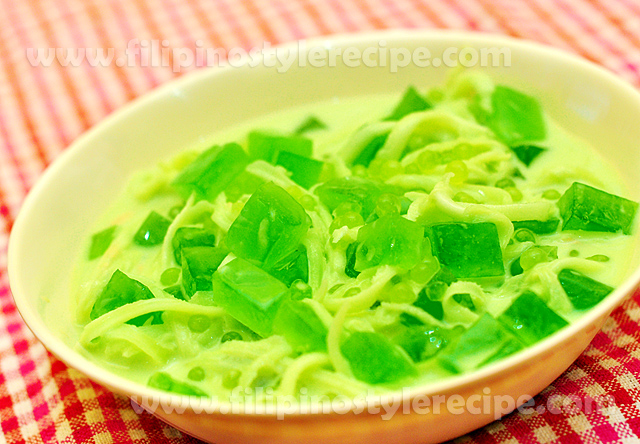 Ingredients:
1 pack gulaman(sweetened pandan flavor)
granulated sugar to taste
1/2 cup tapioca pearls(sago)
2 cups young coconut, shredded into strips
1 pack(250 ml) All-Purpose Cream
1 can(300 ml) condensed milk
1 tablespoon pandan flavoring essence
1 bottle clear nata de coco(optional)
Procedures:
Part 1
1. In a small pot, cook gulaman over low heat based on package instructions. Add sugar then stir until dissolved.
2. Transfer into flat container and let it cool until set completely. Cut into small cubes. Set aside.
Part 2
1. In a pot, boil water over medium heat then add tapioca pearls.
2. Keep stirring to avoid from sticking together until cooked and turns into transparent.
3. Remove from heat then rinse into running water. Drain and set aside, let it cool.
Part 3
1. In a large container, combine all purpose cream and condensed milk then mix until well blended.
2. Add gulaman, coconut strips, nata de coco, sago and pandan flavoring essence then mix.
3. Cover and refrigerate for at least 6 hours or overnight before serving.