Filipino Style Recipe: Penne Arrabiata is another tomato-based pasta dish popular in Italy. This dish is made of Penne pasta cooked in olive oil, tomatoes, chili, parsley and other herbs. Penne Arrabiata is usually served in any special occassions or party.
Estimated time of preparation and cooking: 20-25 minutes
Good for 2-3 servings
Ingredients: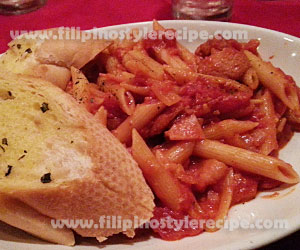 250 grams Penne pasta
3 tablespoons olive oil
1 big can(350 grams) chopped tomatoes
5 cloves garlic, minced
1 large onion, minced
1/2 teaspoon chili flakes
1/2 teaspoon dried oregano
1/2 teaspoon chopped parsley
1/2 teaspoon sugar
salt and pepper to taste
grated Parmesan cheese(optional)
Procedures:
Part 1
1. In a large pot, prepare the pasta based on cooking instructions. Set aside.
Part 2
1. In a sauce pan, heat olive oil then saute garlic, onion and chili flakes.
2. Add chopped tomatoes then simmer for 3 minutes.
3. add oregano, parsley, sugar, salt and pepper then simmer for 10 minutes.
4. Add precooked pasta then carefully stir until pasta is well coated.
5. Transfer to serving plate then sprinkle with Parmesan cheese. Serve with garlic bread.
Comments
comments
Powered by Facebook Comments