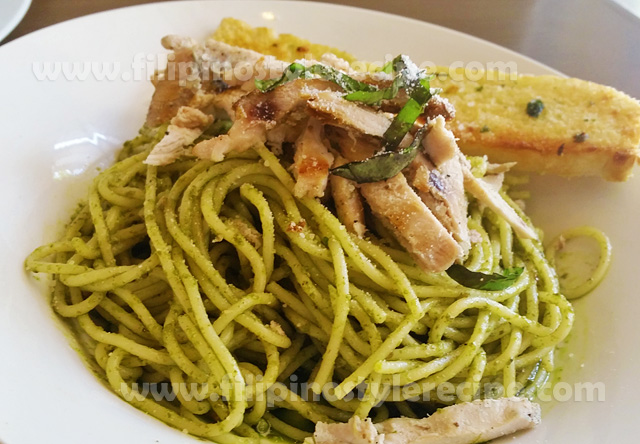 Ingredients:
200 grams spaghetti pasta
1/4 kilo chicken breasts or fillet
1/2 teaspoon garlic powder
1/2 teaspoon cumin powder
1/2 teaspoon Spanish paprika
salt and pepper to taste
Pesto Sauce:
3/4 cups fresh basil leaves, chopped
3 tablespoons pine nuts or roasted pili nuts or walnuts
1/3 cup extra virgin olive oil
salt and pepper to taste
Procedures:
Part 1
1. Pound chicken breasts then season with salt, garlic powder, cumin, paprika and ground pepper.
2. Grill for 20 minutes or until cooked.
3. Let it cool then cut into strips. Set aside.
Part 2
1. In a large pot, prepare pasta based on cooking instructions. Drain and set aside.
Part 3
1. In a food processor or blender, process chopped basil, pine nuts, salt and pepper until blended.
2. Add extra-virgin olive oil then continue blending until combined. Add more olive oil if needed.
3. Pour on spaghetti pasta the toss until coat evenly.
Part 4
1. Transfer spaghetti pesto into serving plate.
2. Top with grilled chicken slices then garnish with chopped basil.
3. Sprinkle with Parmesan cheese then serve with garlic bread. Enjoy!