Filipino Style Recipe: baked pesto cream dory is another simple and easy dish. This dish is consists of dory fillets baked in a blend of pesto sauce, oyster sauce, and cayenne pepper.
Estimated time of preparation: 15 minutes
Estimated time of cooking: 15 minutes
Good for 2-3 persons
Ingredients: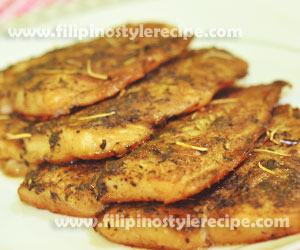 700 grams cream dory, cut into 4 pieces
1 pack pesto sauce mix(dissolved in 1/4 cup water)
2 tablespoons oyster sauce
1/2 teaspoon cayenne pepper
1/2 teaspoon dried rosemary(optional)
2 tablespoons olive oil
salt and pepper to taste
Procedures:
1. In a bowl, combine oyster sauce, cayenne pepper, rosemary, pesto sauce, salt and pepper then mix until well blended.
2. In a baking pan, lined with aluminum foil then grease with olive oil.
3. Arrange fish fillet then spread pesto mixture until well coated.
4. Bake in a preheat oven over 300 degrees Fahrenheit for 15-20 minutes.
5. Transfer to serving plate then serve with your favorite dipping sauce.
Comments
comments
Powered by Facebook Comments