Filipino Style Recipe: shrimp pesto pasta is another simple and healthy Italian pasta dish. This dish is consists of shrimp, pasta and pesto sauce that is made of processed basil, pine nuts, extra virgin olive oil, salt and pepper.
Estimated time of preparation and cooking: 30-40 minutes.
Good for 3-4 person
Ingredients: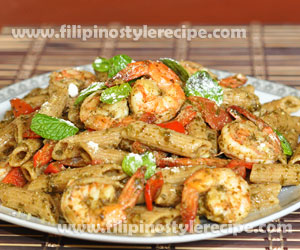 200 grams Penne pasta or any pasta
250 grams shrimp, peeled and deveined
3 tomatoes, chopped
2 red bell pepper, diced
1 head garlic, minced
1 onion, minced
2 tablespoons olive oil
Pesto Sauce:
3/4 cups fresh basil leaves, chopped
3 tablespoons pine nuts or roasted pili nuts or walnuts
1/3 cup extra virgin olive oil
salt and pepper to taste
Procedures:
Part 1
1. In a large pot, prepare pasta based on cooking instructions. Drain and set aside.
Part 2
1. In a food processor or blender, process chopped basil, pine nuts, salt and pepper until blended.
2. Add extra-virgin olive oil then continue blending until combined. Add more olive oil if needed. Set aside.
Part 3.
1. In a pan, heat oil then add shrimp and cook until color turns to pink. Remove from the pan and set aside.
2. In a same pan, saute garlic, onion, and tomatoes until softened.
3. Add bell pepper and then pesto sauce. Adjust seasoning according to taste.
4. add pasta then toss to coat evenly, add shrimps.
5. Prepare shrimp and pasta on pasta tray then top with Parmesan cheese.
6. Garnish with remaining basil. Serve and enjoy.
Note:
1. You may also use ready made pesto sauce in supermarket.
Comments
comments
Powered by Facebook Comments