Filipino Style Recipe: Creamy Beef Stroganoff Pasta is a creamy pasta dish made of beef strips and mushrooms cooked in creamy white sauce. This is commonly serve in any occasion or mid-afternoon snack. The creamy beef stroganoff can also be serve together with pasta or steamed rice.
Ingredients: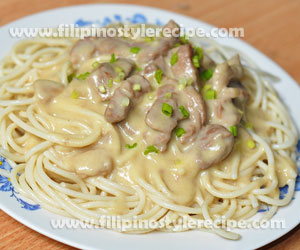 1/2 kilo spaghetti pasta
1/2 kilo beef sirloin, cut into strips
1 can sliced mushroom, drained
1 large onion, diced
3 cloves garlic, minced
1 tablespoon vegetable oil
Marinade:
1/2 cup red wine
1 teaspoon salt
1/2 teaspoon ground black pepper
Creamy Sauce:
3/4 cup butter
1/2 cup flour
2 cups water
1 beef bouillon
1 tablespoon Worcestershire sauce
1 teaspoon yellow mustard
1/3 cup sour cream
1/3 pack (9 oz) cream cheese, softened
Procedures:
Part 1
1. Prepare pasta based on cooking instructions. Drain and set aside.
Part 2
1. Marinate beef strips into the red wine, salt and pepper for 15 minutes. Drain beef and reserve the marinade.
2. In a large pan, heat oil then put the beef until browned around 10-15 minutes. Transfer browned beef into a plate.
Part 3
1. Using the same pan, melt 2 tablespoons butter over medium heat.
2. Saute onion and garlic until translucent then add the mushroom and cook for 5-8 minutes. Transfer into another plate.
Part 4
1. In the same pan, melt the remaining butter then whisk in flour. Cook over medium heat for around 5 minutes.
2. Add water and beef bouillon then let it boil while stirring constantly.
3. Pour the marinade then add the Worcestershire sauce and mustard.
4. Add the mushroom and beef, cover then simmer until meat is tender around 1 hour.
5. When you are about to serve, stir in the cream cheese and sour cream and cook for 5 minutes.
6. In a serving plate, prepare pasta then top with a generous creamy beef stroganoff. Sprinkle with chopped spring onion. Enjoy.
Comments
comments
Powered by Facebook Comments