Filipino Style Recipe:I am not a big fan of marshmallows but its a different story when you say melted marshmallows. In this recipe, instead of using the usual frosting, I am using melted marshmallows on top of a rich and bold chocolate cupcake.
Ingredients: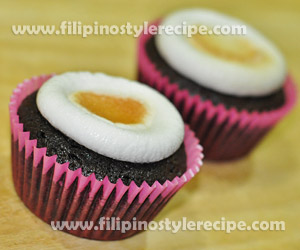 For the cupcake:
1 3/4 cups all purpose flour
2 cups sugar
3/4 cups unsweetened cocoa powder
2 teaspoons baking soda
1 teaspoon salt
1 tablespoon buttermilk powder dissolved in 1 cup milk
1/2 cup vegetable oil
2 eggs
2 teaspoon vanilla extract
1 tablespoon instant coffee dissolved in 1 cup hot water
1 cup chocolate, melted
For the toppings:
24 pieces big white marshmallows
Procedures:
Part 1
1. In a large mixing bowl, mix all dry ingredients(flour, sugar, cocoa powder, baking soda, salt)
2. In another bowl,combine the buttermilk,oil, eggs, and vanilla.
3. Mix the wet ingredients with a mixer on low speed. Slowly add the dry ingredients into the wet ingredients and mix until just combined.
4. Add the coffee and mix with hand until just combined. Fold in melted chocolate.
5. Pour the batter into prepared cupcake pans.
6. Bake in preheated oven at 350 degrees Fahrenheit for 15-18 minutes or until a toothpick inserted on the cupcake comes out clean.
Part 2
1. Remove from the oven and put one marshmallow on top of each cupcake. Press lightly to avoid from falling off the cupcake.
2. Put back in the oven and bake for 1 minute or less when the top is light brown.
3. Remove from the oven and gently press down marshmallows to flatten.
4. Best served warm.
Comments
comments
Powered by Facebook Comments