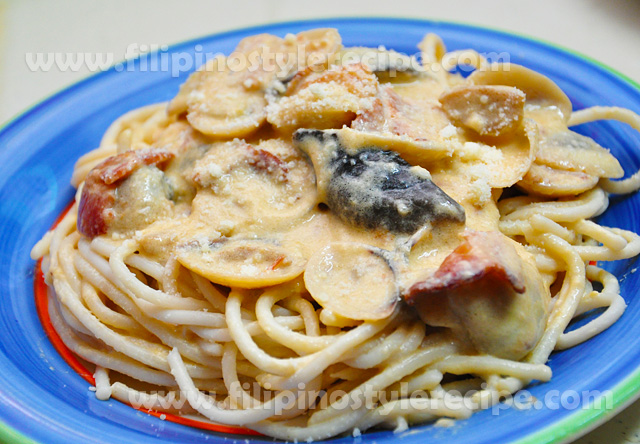 Ingredients:
500 grams spaghetti or any pasta
800 grams clams(halaan)
3 tablespoons vegetable oil
1/2 head garlic, peeled and chopped
4 strips bacon, cut into cubes and fried
1 onion, chopped
1/4 cup sliced shiitake mushroom
1 big can evaporated milk
2 x 250 ml all purpose cream
1/2 cup Parmesan cheese, grated
salt and pepper to taste
parsley for garnishing(optional)
Procedures:
Part 1
1. In a large pot, prepare pasta based on cooking instructions. Drain and set aside.
Part 2
1. In a pan, heat oil then saute garlic, onion and mushroom then saute for 2-3 minutes.
2. In a same pan, add clams then cover and simmer until shells open.
3. Add the evaporated milk and all purpose cream then bring to boil while keep stirring.
4. Add the grated cheese then keep stirring for about 3-5 minutes or until beginning to thicken.
5. Add fried bacon then adjust seasoning with salt and pepper.
6. In a serving plate, arrange pasta then add the sauce on top. Sprinkle with grated cheese and garnish with parsley. Serve!
Comments
comments
Powered by Facebook Comments