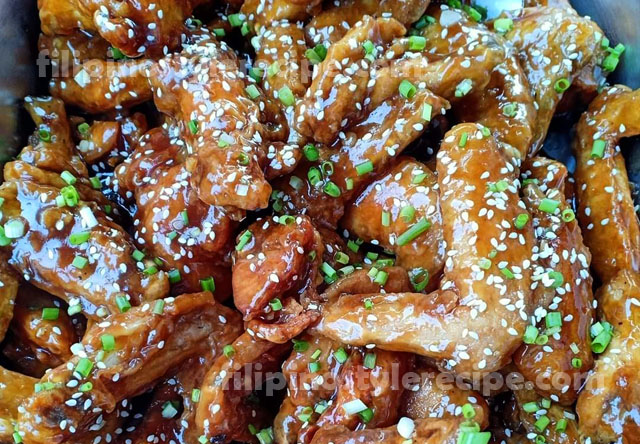 Ingredients:
3/4 kilo chicken wings, cut into sections
4 tablespoons chili garlic sauce
1/2 cup soy sauce
2 tablespoons vinegar
4 teaspoons sesame oil
1/2 cup brown sugar
3 cloves garlic, minced
1/2 teaspoon salt
a pinch of black pepper
4 teaspoons cornstarch
sesame seeds
spring onion, chopped
Procedures:
Part 1
1. Preheat oven to 200 degrees Celsius.
2. In a bowl, combine, chili garlic sauce, soy sauce, vinegar, sesame oil, brown sugar, and garlic.
3. Season chicken wings with salt, pour half of the sauce then toss until well-coated.
Part 2
1. In a baking pan, spread chicken wings in a single layer.
2. Bake chicken wings for 20 minutes, then flip each wings and bake for another 30 minutes.
Part 3
1. In a microwave-safe bowl, pour remaining sauce then add cornstarch, mix well.
2. Microwave for 20 seconds or until becomes thick.
3. Toss chicken wings into the sauce then transfer into serving bowl.
4. Sprinkle with sesame seeds and spring onions. Serve immediately.