Filipino Style Recipe: Mushroom and Tomato Pasta is an easy and simple pasta dish consist of linguine pasta and a creamy white sauce with mushrooms, tomatoes and cheese.
Ingredients: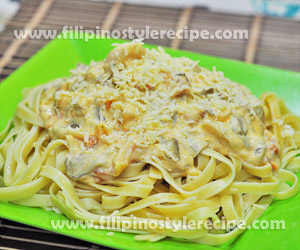 250 grams linguine
2 tablespoon butter
5 cloves garlic, miced
5 pieces tomatoes, chopped
1 cups oyster mushroom, torn into 2-3 pieces
1 pack (250 ml) all purpose cream
1 piece chicken bullion dissolved in 1/2 cup water
1/4 cup Parmesan or Cheddar cheese
1 tablespoon oil
salt and pepper to taste
1 teaspoon dried basil flakes (optional)
Procedures:
Part 1
1. Cook pasta according to package instruction. Drain.
2. Sprinkle with oil to avoid from sticking and set aside.
Part 2
1. In a pan over medium heat, saute garlic in butter until translucent.
2. Add tomatoes and cook for 5 minutes or until the tomatoes are soft and the juices comes out.
3. Add the mushrooms and cook for about 3 minutes.
4. Add the all purpose cream and chicken broth, reduce heat and let it simmer uncovered until liquid is reduced and the sauce is a bit thickened.
5. Add the cheese and season with salt and pepper.
6. Scoop the sauce over pasta, top with cheese and basil.