Filipino Style Recipe: I just happened to have some leftover chocolate cupcakes from a batch I made. And since it already gotten dry after 2 days in the fridge, I reinvented into a bread pudding.It turned out great, everybody loved it, and no more leftovers!
Ingredients: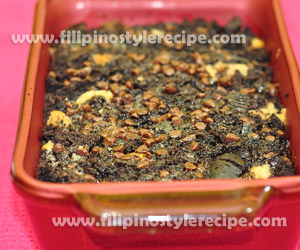 2 slices white bread, torn into small pieces
4 slices chocolate flavored bread/cupcakes, torn into small pieces
2 tablespoon butter, melted
1 1/2 cup milk
1/2 cup sugar
3 eggs
2 teaspoon vanilla extract
1/4 cup mini chocolate chips
Procedures:
1. In a loaf pan, arrange the white bread at the bottom of the pan. Put the chocolate bread on top of the the white bread. Drizzle with the butter.
2. In a mixing bowl, combine the milk, sugar and mix. Add the eggs and beat until well combined. Add the vanilla and mix again.
3. Pour the milk mixture evenly on the bread. Press down with fork to soak. Sprinkle chocolate chips on top.
4. Bake in preheated oven at 350 Fahrenheit for 30 minutes or when a toothpick inserted at the middle comes out clean.
5. Remove from the oven. Best served while still warm.