Filipino Style Recipe: Pork Tonkatsu is a Japanese deep fried pork. Normally the pork comes breaded and deep-fried. It is usually served with shredded cabbage and tonkatsu sauce.
Estimated time of preparation: 15 minutes
Estimated time of cooking: 30 minutes
Good for 10 servings
Ingredients: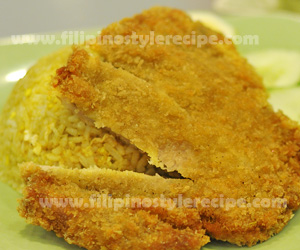 10 slices boneless pork chops, about 1/2-inch thick
1-1/2 cup all purpose flour
1-1/2 cup bread crumbs
2 eggs, beaten
1 tablespoon oil
cooking oil for frying
Tonkatsu sauce or barbecue sauce
salt & pepper to taste
1/2 head cabbage, thinly shredded and soaked in cold water(optional)
Procedures:
Part 1
1. In a bowl, add beaten eggs and 1 tablespoon oil. whisk well.
Part 2
1. Get rid of the extra fat of the pork chops to keep the meat from curling when fried.
2. Pound the meat with a meat pounder or crisscross the meat using the back of knife.
3. Sprinkle the meat with salt and pepper on both sides.
Part3
1. Dredge the meat in flour and shake off to remove excess flour.
2. Dip in egg mixture and press into bread crumbs to coat both sides.
Part 4
1. In a frying pan, heat oil over a medium heat.
2. Deep fry both sides of breaded pork chops, cook for about 4-5 minutes or until colors turn to golden brown and tender.
3. Drain on paper towels and cut each tonkatsu into bite-size strips.
Part 5
1. Transfer the tonkatsu into serving plate with shredded cabbage.
2. Serve hot with java rice and tonkatsu sauce. Enjoy!
Notes:
1. Tonkatsu sauce can be purchased at grocery stores or refer to this recipe: http://filipinostylerecipe.com/2013/10/katsu-sauce/
Comments
comments
Powered by Facebook Comments