Filipino Style Recipe: Baked breaded fish fillet is another easy and simple fish dish. The fish fillet is usually marinated then dredge in flour, eggs and breadcrumbs. Bake until golden brown then serve with dipping sauce.
Estimated time of preparation: 10 minutes(plus marinating time)
Estimated time of baking: 25-30 minutes
Good for 3-4 persons
Ingredients: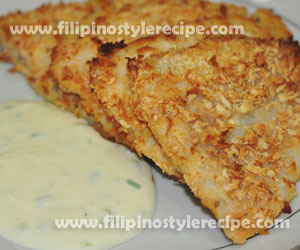 1 kilo boneless fish fillet(tilapia, milkfish, salmon, snapper)
1 1/2 cup all purpose flour
1 1/2 cup bread crumbs
2 eggs, beaten
1 tablespoon sesame oil
Marinade:
3 cloves garlic, minced
4 tablespoons calamansi or lime juice
salt and pepper to taste
cooking oil for frying
Procedures:
Part 1
1. Marinate fish in calamansi juice, paprika, salt and pepper for 10 minutes.
2. In a bowl, add beaten eggs and sesame oil. whisk well and set aside.
3. Dredge the fish in flour and shake off to remove excess flour.
4. Dip fish in egg mixture and press into bread crumbs to coat both sides.
Part 2
1. Preheat oven to 375 degrees Fahrenheit.
2. Arrange breaded fish fillet in a baking pan then drizzle with olive oil.
3. Bake for 25-30 minutes or until golden brown.
4. Remove from the oven then transfer into serving plate with sour cream.
Comments
comments
Powered by Facebook Comments