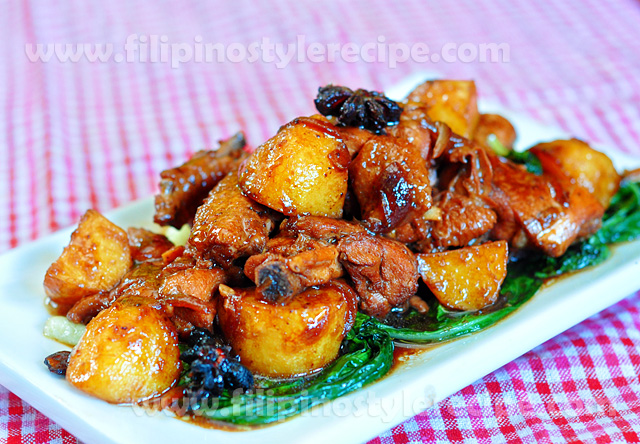 Ingredients:
1 kilo chicken, cut into serving pieces
1/2 cup vegetable oil
1 1/2 cup water
250 grams Bok Choy(Chinese Petchay),blanched
Marinade:
1/2 cup soy sauce
1/4 cup oyster Sauce
1/4 cup brown sugar
1/4 cup ketchup
4 pieces star anise
1 thumb-sized ginger, grated
1 onion, chopped
5 gloves garlic, minced
1 teaspoon salt and pepper
Procedures:
Part 1
1. In a large bowl, combine all the marinade ingredients and marinate chicken for 1 hour. Remove from marinade and set aside.
Part 2
1. In a pan, heat oil then fry potatoes until light brown. Drain and set aside.
Part 3
1. In a same pan, fry chicken for 5 minutes or until light brown. Reduce oil if needed.
2. Add marinade and water, cover and simmer for 30 to 40 minutes or until chicken is tender. Add water if needed.
3. Add fried potatoes then adjust seasoning with sugar, salt and pepper according to taste.
Part 4
1. In a serving plate, arrange bok choy then add chicken asado. Serve with steamed rice.