Filipino Style Recipe: Cream Cheese Chocolate Chip Frosting has a thick consistency similar to chocolate chip cookie dough. The sweetness of frosting is balanced by the cream cheese . This can be use to frost any cupcake specially my favorite red velvet cupcake.
Good for 30 cupcakes
Ingredients: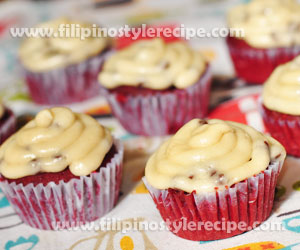 4 ounce (half pack) cream cheese, softened
5 tablespoon butter, softened
1 teaspoon vanilla extract
1/2 cup flour
2/3 cup brown sugar
2 tablespoon milk, can be adjusted to achieve desired consistency
3 cups confectioner's sugar, can be adjusted to achieve desired consistency
1/2 cup mini chocolate chips
Ingredients:
1. In a mixer, cream butter and sugar at medium speed until smooth (around 4 minutes).
2. Add vanilla, flour and brown sugar then continue mixing until well blended.
3. Add the milk and confectioner's sugar then beat until you reach the desired consistency. It will be a bit thick like a cookie dough. Add milk if you feel it is too thick or add confectioner's sugar if it is too thin.
4. Fold in the chocolate chips.
5. Frost your cupcakes. You can use a piping bag or just scoop it on top.